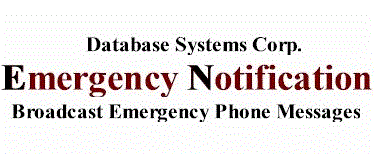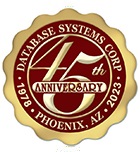 Emergency Alerts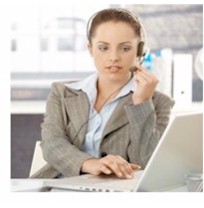 Database Systems Corp. (DSC) is a leading provider of call center technology including emergency voice broadcasting products and services. 911 Broadcast is the emergency alert service and systems division of DSC.

Emergency broadcast systems have been around for years. Several decades back, community sirens were used to warn the community of pending storms and other natural disasters.

Fire departments used a central siren system for notifying the community of a fire and as a means to recall volunteers. With modern communications using internet messaging and cell phones, community members can now be warned of an emergency using these mobile devices. Emergency alerts are also transmitted through television and radio stations to notify as many people as possible during a crisis.

Our emergency alert system utilizes phone message that are pre-recorded and delivered en masse to a community or group of individuals. Community notification messages can be delivered quickly and efficiently using this latest emergency voice broadcasting technique. Whether you need to purchase your own emergency notification system or utilize our voice broadcasting service, you can rely on us to deliver your alert messages promptly and accurately.

Contact DSC to learn more about emergency alert technology including our phone systems and voice broadcast services.


---
Fort Wayne-Allen County Airport
"The Fort Wayne-Allen County Airport has the responsibility for managing the Fort Wayne International Airport. The relationship between the Authority and the tenants (e.g. airlines, car rental companies, the gift shop, the restaurant, the parking lots, etc.) of the airport is very much like that of a shopping mall manager and the shop owners. The Authority provides the infrastructure and facilities and assures that the environment is safe, clean, and attractive." - www.fwairport.com

The Fort Wayne-Allen County Airport has contracted with DSC to provide emergency notification services. Utilizing our emergency broadcasting center, the Authority contacts staff and airport personnel during an emergency alert at the airport.
---
Activating an Emergency Alert
Sending an emergency alert to your community using our emergency phone dialer involves the taking the following steps:
Create A Clear and Concise Alert Message

During an emergency, it is important that your alert message convey the information that you desire - no more and no less. Generally a 30 second message is considered the optimum length. If additional information needs to be conveyed, provide the call recipient with phone keypad selection options ("Press 1 for...") or simply provide a contact number. Playing a long message may confuse the call recipient and this individual may not take the appropriate action that you desire.

Emergency warning messages can be recorded offline by the emergency coordinator and uploaded over the web to our 911 Broadcast center. DSC also provides clients with a convenient 800 number to call and record messages over the phone.


Identify Alert Message Recipients

It is of utmost importance that your emergency alert message be delivered to the right audience. In many cases, your targeted group of message recipients has been predefined (a community, response group, etc.). A specific emergency may require the building of this list based upon geographic or demographic requirements during the actual emergency.

911 Broadcast call lists can be stored on our phone system or call lists can be created from a master list of community residents by the administrator during the alert condition.


Initiate The Emergency Alert Broadcast

Once the alert message has been created and the list of recipients identified, the emergency voice broadcast can be initiated.

Our emergency notification process can be initiated over the internet using a secure administrative process. Likewise, emergency alert messages can be started over the phone using our 800 number.
Additional Information
Contact Us Today to learn more about our emergency alert systems and services.



Emergency Systems
Emergency Broadcast System
Emergency Phone Dialer
School Alert Services
Community Alert System
Emergency Messaging

Emergency Related
Emergency Response Systems
Emergency Contact Systems
Mass Notification
Emergency Dispatch
Emergency Communication
Emergency Phone Tree
Emergency Management

Emergency Applications
Emergency School Notification