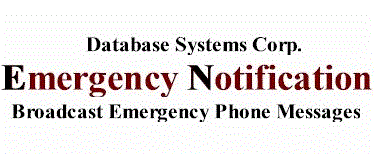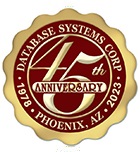 Emergency Broadcast Services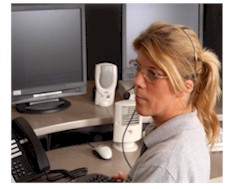 Database Systems Corp. (DSC) has developed a complete line of automatic call processing phone systems and software. These solutions include emergency voice broadcast solutions and emergency notification phone services.

Emergency broadcasting encompasses a broad spectrum of emergency communications techniques and the media required to contact groups and individuals when an extraordinary event occurs. This could be a disaster alert such as a flood warning or a major storm warning sent to an entire community. Likewise, the emergency broadcast can be delivered to a small group of individuals requiring an emergency school notification or alert.

Emergency broadcast messages can be delivered quickly and efficiently using the latest voice broadcasting technology from DSC. Whether your organization needs to purchase an emergency phone system or utilize our voice broadcast service, you can rely on us to deliver your alert messages promptly and accurately.

Contact DSC to learn more about emergency broadcast technology including our state-of-the-art phone systems and outsourcing services.
Register Online And Save!
DSC now provides an online signup for both non-profit and business organizations wishing to use our emergency voice broadcasting outsourcing services. Signup is easy and can be accomplished in just minutes! Our competitive rates are affordable, even for the smallest calling campaign.

Start Calling In Just Minutes!. Using our new online signup lets you get started immediately with your calling campaign. Simply create an account and agree to our standard terms and conditions. Then download your list of phone numbers and record a message. We accept major credit cards and for as little as $25, you can begin calling. Its that simple!

Both emergency and non-emergency voice broadcasting services can be provided by DSC.

To register online, click on the the online registration image or button on the right.




---
Emergency Broadcast at the Bayer Group

"The new (Bayer) corporate mission statement, featuring the slogan "Bayer: Science For A Better Life," summarizes the Group's goals, strategies and values. In the future, Bayer will focus on innovation and growth in the areas of health care, nutrition and high-tech materials." - www.bayer.com

Bayer Polymers has contracted with Database Systems Corp. and our 911 Broadcast division to utilize our emergency broadcast services as an employee alert service in case of an emergency. This service is also used for non-emergency purposes to remind employees of upcoming company events.
---
Managing Emergency Calls From Your Smartphone
DSC now lets you manage your emergency notification calling campaigns using your Droid and iPhone smartphones. The following easy to use functions are available to smartphone users.
Login to your account
Select a list of phone numbers to call
Select saved recordings to broadcast
Record messages by calling our service
Start and Stop a voice broadcast
Monitor the voice broadcast in progress
This smartphone application lets you manage any number of emergency broadcasts using simple phone commands. Contact DSC to learn more about this simple way to control your emergency broadcasting and to obtain a copy of this smartphone application.

Contact DSC to learn more about emergency school notification calling systems including our phone systems and outsourcing services.


---
How Does Our Emergency Broadcasting Service Work?
Emergency voice broadcasting using our auto dialing phone systems involves the transmission of pre-recorded phone messages to thousands of households in a short period of time. An administrator can initiate this broadcast by performing the following tasks using our online service:
Create An Appropriate Emergency Broadcast Message

It is very important that your emergency warning message conveys accurate and timely information with minimum instructions. A 30 second phone message is considered the optimum length. If additional information needs to be conveyed, provide the call recipient with a touchphone option to select from a menu or simply provide a number to call to obtain further information. Playing a long message may confuse the call recipient and diminish the importance of the emergency. Also, the longer the phone message, the fewer calls can be made using a phone system with limited outbound lines.

Emergency alert messages can be recorded offline and uploaded to our phone system using our online website. We also provide our emergency notification clients with a toll free phone number to call and record the message over the phone.


Build A List of Call Recipients

The emergency message must be delivered to the right group or individuals at the appropriate time. In many cases, the message group has been pre-identified (members of a specfic geographic area, response groups, etc.). An emergency may dictate that the building of this list is based upon geographic or demographic considerations.

Emergency call lists can be maintained on our phone system or call lists can be created from a master list of community residents by the administrator.


Initiate The Emergency Broadcast

Once the message has been created and the list of recipients identified, the emergency voice broadcast can be initiated.

Our emergency broadcast process can be initiated over the internet using a secure administrative process. Likewise, emergency messages can be initiated over the phone or by using our emergency XML messaging technology.
---
Additional Information
Contact Us Today to learn more about our emergency broadcast systems and services.