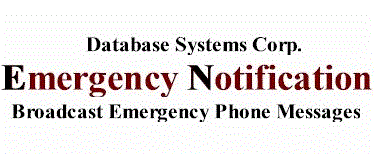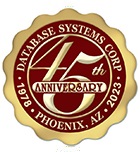 Emergency Notification Calling Services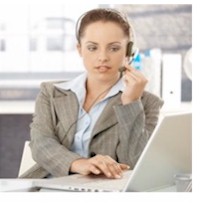 911 Broadcast is the emergency broadcast division of Database Systems Corp. (DSC) that provides emergency notification systems and outsourcing services. Since 1978, DSC has been providing computer technology products and services worldwide.

DSC provides the latest emergency voice broadcasting technology including emergency notification services and phone systems. Whether you need to purchase your own emergency phone dialer or utilize our emergency calling service, you can rely on us to deliver your alert messages promptly and accurately.

When a critical situation arises in your community, our emergency notification service can contact your residents quickly and efficiently. Should a disaster such as a forest fire or flood threaten your residents, we can provide emergency communications and evacuation instructions immediately.

Contact DSC for a FREE analysis and quote and to learn more about our emergency autodialers and services.


---
Fort Wayne-Allen County Airport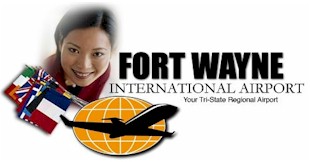 "The Fort Wayne-Allen County Airport has the responsibility for managing the Fort Wayne International Airport. The relationship between the Authority and the tenants (e.g. airlines, car rental companies, the gift shop, the restaurant, the parking lots, etc.) of the airport is very much like that of a shopping mall manager and the shop owners. The Authority provides the infrastructure and facilities and assures that the environment is safe, clean, and attractive." - www.fwairport.com

The Fort Wayne-Allen County Airport has contracted with DSC to provide emergency alert services. Utilizing our emergency broadcasting center, the Authority contacts staff and airport personnel in the event of an emergency at the airport.
---
Register Online And Save!
DSC now provides an online signup for both non-profit and business organizations wishing to use our emergency voice broadcasting outsourcing services. Signup is easy and can be accomplished in just minutes! Our competitive rates are affordable, even for the smallest calling campaign.

Start Calling In Just Minutes!. Using our new online signup lets you get started immediately with your calling campaign. Simply create an account and agree to our standard terms and conditions. Then download your list of phone numbers and record a message. We accept major credit cards and for as little as $25, you can begin calling. Its that simple!

Both emergency and non-emergency voice broadcasting services can be provided by DSC.

To register online, click on the the online registration image or button on the right.




---
Emergency Notification Service Applications
Emergency alert phone services can be used in a wide variety of commercial and community applications:
Utility or service outages
Emergency Contact Service
Forest Fire warnings
Call for volunteers
Response team notification
Emergency and Community Alerts
Emergency notification services can provide you with significant benefits:
Cost Savings
Improved Control
Efficient Use of Resources
Maximized Productivity
Additional Information
Contact Us Today to learn more about our emergency notification services and phone systems.