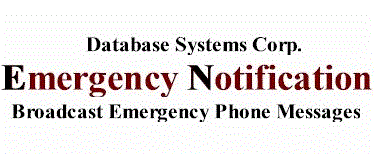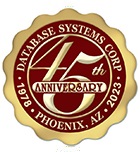 Emergency Warnings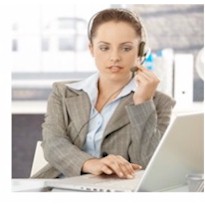 911 Broadcast is the emergency warning service division of Database Systems Corp. (DSC), which develops communications products and services.

Whether you need to purchase your own emergency dialer or utilize our emergency dialing service, you can rely on us to deliver your alert messages quickly and accurately.

Should a disaster such as severe weather, fire or flood threaten your community, we can provide emergency warnings and evacuation instructions immediately.

Our community alert system can connect calls to members of your emergency response team, whether they are working from remote locations, from home, or from a central dispatch area.

Contact DSC to learn more about our emergency broadcast systems and services.


---
Amber Charter Schools

"Amber Charter School's mission is to provide comprehensive learning experiences that will enable all students to become fully-educated, creative adults, prepared to play leadership roles in New York City and in our global society.

Amber's objective is to enable students to demonstrate proficiency and distinction in all New York State Learning Standards and to enable all students, both Spanish-dominant and English-dominant, to achieve full fluency in both languages." - ambercharter.echalk.com

Amber Charter School currently utilizes our emergency autodialer and emergency messaging phone services to notify school members and faculty in the event of any emergency that may arise including school closings, severe weather, or other catastrophes.
---
From One to Thousands of Phone Lines
DSC provides a comprehensive range of emergency warning phone dialers that play messages over just a few analog lines up to 1000s of digital phone lines using our emergency dialer network.
What Is An Emergency Warning Dialer?
Our automatic emergency warning dialers call numbers from a computer managed phone list.

If our emergency notification system detects a live person or an answering machine, it plays a recorded message providing details regarding the emergency.

If a busy signal or no answer is detected, the phone system can be configured to make multiple attempts to contact this household.

Messages delivered to residents can provide an option for the call recipient to speak with a member of your emergency team by simply pressing a button on the phone keypad.
Additional Information
Contact Us Today to learn more about our emergency notification systems and services.



Emergency Systems
Emergency Alert
Emergency Broadcast Service
Emergency Notification
Emergency Messaging

Emergency Related
Emergency Response Systems
Emergency Contact Systems
Mass Notification
Emergency Dispatch
Emergency Communication
Emergency Phone Tree
Emergency Management

Disaster Alerts
Severe Weather Warnings
Hurricane Warnings
Forest Fire Warnings
Blizzard Warnings
Tornado Warnings
Flood Warnings