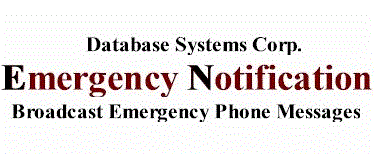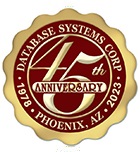 Emergency Notification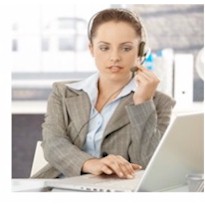 Database Systems Corp. (DSC) is a leading provider of call processing solutions including voice broadcasting systems and services. 911 Broadcast is the emergency broadcast service division of DSC.

Emergency communications encompasses a broad spectrum of mass notification techniques and media to contact groups and individuals when an extraordinary event occurs. This could be a hurricane evacuation alert for an entire community. Likewise, the notification can be delivered to a small group of individuals living in a enclave that needs to be alerted to a pending utility outage.

Emergency notification messages can be delivered quickly and efficiently using the latest emergency voice broadcasting technology from DSC. Whether you need to purchase your own phone system or utilize our voice broadcasting service, you can rely on us to deliver your alert messages promptly and accurately.

Contact DSC to learn more about emergency notification technology including our phone systems and outsourcing services.
Managing Emergency Calls From Your Smartphone
DSC now lets you manage your emergency notification calling campaigns using your Droid and iPhone smartphones. The following easy to use functions are available to smartphone users.
Login to your account
Select a list of phone numbers to call
Select saved recordings to broadcast
Record messages by calling our service
Start and Stop a voice broadcast
Monitor the voice broadcast in progress
This smartphone application lets you manage any number of emergency broadcasts using simple phone commands. Contact DSC to learn more about this simple way to control your emergency broadcasting and to obtain a copy of this smartphone application.




---
Conoco Phillips

"ConocoPhillips is an international, integrated energy company. It is the third-largest integrated energy company in the United States, based on market capitalization, oil and gas proved reserves and production; and the second-largest refiner in the United States. Worldwide, of nongovernment-controlled companies, ConocoPhillips has the sixth-largest total of proved reserves; and based on crude oil capacity, is the fifth-largest refiner." - www.conocophillips.com

Conoco Phillips selected Database Systems Corp. to provide emergency notification services at our voice broadcasting center for its Houston headquarters. They utilize our call blasting services in the event of an emergency in any of its oil drilling operations in Saudi Arabia.
---
What Is An Emergency Notification Auto Dialer?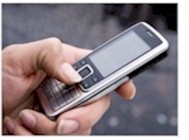 An automatic emergency notification system dials numbers from computer managed phone lists playing recorded messages to the call recipients. If the phone system detects a person or an answering machine on the phone line, it plays a recorded message providing details regarding the emergency. If a busy signal or no answer is detected, the phone system can be configured to make multiple attempts to contact this household.

Emergency notification messages delivered to residents can provide an option for the call recipient to speak with a member of your emergency team by simply pressing a button on the phone keypad.

Complex scripts can be developed with detailed information about an event or instructions for emergency response crews.
How Does Our Emergency Notification Service Work?
Emergency notification using our auto dialer involves the transmission of a recorded phone message to hundreds or thousands of households in a short period of time. As the administrator of an emergency notification center, it is important to do the following:
Create A Clear and Concise Message

During an emergency, it is important that your recorded phone message convey the information and instructions that you desire - no more and no less. Generally a 30 second message is considered the optimum length. If additional information needs to be conveyed, provide the call recipient with touchphone options to select from a menu or simply provide a contact number. Playing a long message may confuse the call recipient and diminish the importance of the emergency.

Emergency notification messages can recorded offline and uploaded over the internet. DSC also provides clients with an 800 number to call and record the message over the phone.


Create A List of Message Recipients

It is of important that the emergency message be delivered to the right audience. In many cases, your targeted group of message recipients has been predefined (a community, response group, etc.). A specific emergency may require the building of this list based upon geographic or demographic requirements.

911 Broadcast call lists can be stored on our phone system or call lists can be created from a master list of community residents by the administrator during the alert.


Initiate The Emergency Phone Broadcast

Once the message has been created and the list of recipients identified, the emergency voice broadcast can be initiated.

Our emergency notification process can be initiated over the internet using a secure administrative process. Likewise, emergency messages can be initiated over the phone or by using our automated emergency VoiceXML messaging procedures.
Additional Information
Contact Us Today to learn more about our emergency notification systems and services.



Emergency Systems
Emergency Alert System
Emergency Broadcast System
Emergency Phone Dialer

Notification Types
Emergency Alert
Emergency Warnings
Community Alert System
Telephone Warnings

Emergency Related
Emergency Response Systems
Emergency Contact Systems
Emergency Dispatch
Emergency Communication
Emergency Phone Tree
Emergency Management

Emergency Applications
Emergency School Notification