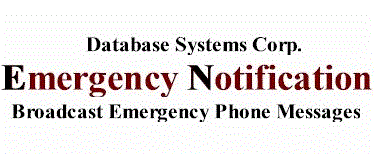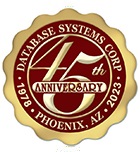 Telephone Warnings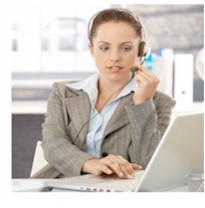 Database Systems Corp. (DSC) develops communications products and provides emergency notification services to clients throught the U.S. and Canada. These emergency alerts are either voice messages that are recorded at the time of the emergency and sent to call recipients or text messages that are transmitted to mobile devices.

DSC provides both emergency dialers and emergency notification services.

Should a disaster such as severe weather, fire or flood threaten a community, DSC can provide emergency telephone warnings and evacuation instructions immediately.

The DSC community alert system can connect calls to members of a local emergency response team, no matter where they are located.

Contact DSC to learn more about our emergency broadcast systems and telephone warning services.


---
Register Online For Emergency warning Services
DSC now provides an online signup for both non-profit and business organizations wishing to use our emergency voice broadcasting outsourcing services. Signup is easy and can be accomplished in just minutes! Our competitive rates are affordable, even for the smallest calling campaign.

Start Calling In Just Minutes!. Using our new online signup lets you get started immediately with your calling campaign. Simply create an account and agree to our standard terms and conditions. Then download your list of phone numbers and record a message. We accept major credit cards and for as little as $25, you can begin calling. Its that simple!

Both emergency and non-emergency voice broadcasting services can be provided by DSC.

To register online, click on the the online registration image or button on the right.




---
City Of Brentwood Police Department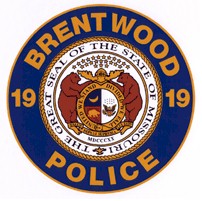 "The Brentwood Police Department in Brentwood, Missouri is one of the most efficient, professional, and reliable public safety services imaginable. They use state-of-the-art dispatching equipment to ensure their exceptional response time, and are readily trained in the latest law enforcement tactics and procedures." - www.brentwoodmo.org

The Brentwood Police Department selected Database Systems Corp. to provide community notification services for the senior citizens of Brentwood, Missouri. They utilize our CARE (Call Reassurance) phone system to provide well-being checks for their community members.
---
How To Use Our Telephone Warning Service?
The DSC telephone warning and emergency broadcast service is easy to use. Calls can be initiated from our website or can be activated by phone. If you purchase our system, emergency warning activation can be initiated using an easy-to-use program.
Touch Phone Activation

Our telephone warning calling service can be initiated by using our emergency 800 number and entering an account ID and password by touch phone. Once validated, simply record an emergency warning message and select from any number of pre-defined lists of phone numbers (such as EMS crews, rescue teams, or geographically defined phone numbers). The DSC call center immediately starts sending the warning message to individuals on the selected list.

Web Activation

Telephone warnings can be transmitted using DSC emergency alert services using our secure website. DSC provides the ability to maintain existing call lists as well as download new ones.

If an emergency should arise, simply record your emergency message using our 800 toll free phone service.

Next identify your call recipients using a simple list manager and send us your phone numbers via the internet. DSC immediately starts sending your emergency messages.



Computer Message Activation

Our emergency notification network also supports computer and web connectivity using XML technology. Emergency telephone warnings can be initiated from your website or computer by automatically sending our emergency phone system a message containing a list of one or more phone numbers and a message to be sent to these individuals. The message can be text (which is automatically converted to voice) or a voice file. For further information, visit our emergency XML messaging web page.
Call Database Systems Corp. Today
Contact Us Today to learn more about our telephone warning and emergency notification systems and services.