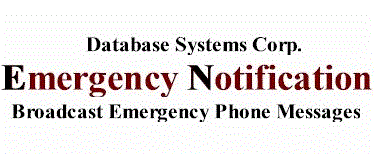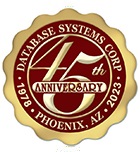 Emergency Communication Service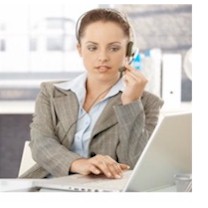 Since 1978, Database Systems Corp. (DSC) has been a provider of computer related software and services, particularly for the telecommunications industry. DSC maintains a secure and redundant call center that provides emergency communications services for both public service organizations as well as corporate and private groups.

DSC provides the latest emergency communications technology including emergency notification phone systems and outsourcing services.

When a critical situation occurs within your organization or community, our emergency alert service can be used to contact employees or residents quickly and efficiently. Should a disaster such as a flood or fire threaten your community, we can provide emergency communications and evacuation instructions immediately.

Campus alerts can be sent to students, faculty and parents when a situation arises that demands the attention of school authorities and community members using this school alert service.

Contact DSC for a FREE analysis and quote and to learn more about our emergency communications services and autodialers.
Register Online
DSC now provides an online signup for both non-profit and business organizations wishing to use our emergency voice broadcasting outsourcing services. Signup is easy and can be accomplished in just minutes! Our competitive rates are affordable, even for the smallest calling campaign.

Start Calling In Just Minutes!. Using our new online signup lets you get started immediately with your calling campaign. Simply create an account and agree to our standard terms and conditions. Then download your list of phone numbers and record a message. We accept major credit cards and for as little as $25, you can begin calling. Its that simple!

Both emergency and non-emergency voice broadcasting services can be provided by DSC.

To register online, click on the the online registration image or button on the right.

Contact DSC to learn more about emergency school notification calling systems including our phone systems and outsourcing services.


---
Customer Profile - U.S. Post Office

"The United States Postal Service® is an independent establishment of the Executive Branch of the United States Government. It operates in a businesslike way. Today, the Postal Service™ delivers hundreds of millions of messages each day to more than 141 million homes and businesses."

The U.S. Post Offices in Columbus Ohio utilizes our emergency communications services to contact postal employees in the event of an emergency. Emergency phone messages are sent to employees notifying them of a facility shutdown or other emergency situation. Messages also are sent informing employees to contact their emergency center 800 number for specific information and instructions.
---
Emergency Communications Service Applications
Emergency alert phone services can be used in a wide variety of commercial and community applications:
School Alerts and School Closings
Utility or Service Outages
Emergency Contact Service
Forest Fire warnings
School Emergency Notification
Emergency and Community Alerts
Call for Volunteers
Response Team Notification
Additional Information
Contact Us Today to learn more about our emergency notification systems and emergency communications services.